Will Capcom ever make a good box art?
By the time Mega Man 4 rolled around, people knew what to expect. Eight  robot masters with unique stages, cool weapons to use, and a great soundtrack. The question was, is Mega Man 4 the best Mega Man game yet?
The story in Mega Man 4, like in most Mega Man games, is fairly nonessential to the overall experience, but Capcom tried to give us something interesting anyway. After the events of Mega Man 3, Dr. Light receives a mysterious letter from the Russian scientist Dr. Cossack, who says that he is going to release his robot army upon the world. With no other option, Dr. Light sends out his greatest creation, Mega Man, to once again save the world from the army of evil robots. The story isn't what keeps you playing the game, but it is charming enough.
Mega Man 4 keeps the gameplay we all know and love, but it also tries to add some new elements to freshen up the experience. The main and most obvious addition is the ability to charge your buster into a much more powerful shot. You would think think this would be great, as you could blow through enemies with ease, but sadly, that's not the case. To compensate for your ability to charge shots, Capcom decided to give the enemies more health, meaning that the charge shot feels a lot less optional. That's not to say that the game can't be beaten without using it, but it does mean that you'll have to rely on charging your buster a lot. In terms of the stages though, I think Mega Man 4 really succeeds in not only having stages that fit the design of their respective robot master, but also having some unique gimmicks to go along with the stages. The special weapons are still fun to use, and at it's core it's still a solid game. You'll either love or hate the charge buster, but either way the game still keeps what we love about Mega Man.
One thing Mega Man games have always gotten right are the visuals and the music. Mega Man 4 ditches the darker tone that Mega Man 3 had for a much lighter and more colorful atmosphere. The visuals have an almost timeless feel to them, and they still look great even today. You'd be lying if you said you weren't impressed the first time you saw Ring Man's stage. The soundtrack is once again stellar, though I don't think it holds up to the legendary soundtracks in Mega Man 2 or 3.  Much like what Mega Man 3 did in making the levels darker, Mega Man 4 does with it's music. The music feels a bit more raw and gritty, while not essentially a bad thing, it is a bit different than what we're used to. Here are a few of my favorite themes from the game:
Pharaoh Man
Dust Man
Dive Man
If you've played any other Mega Man game, then you know what to expect in terms of difficulty. Mega Man 4 is pretty balanced, not being too hard, but also providing just enough challenge. One of the changes from Mega Man 3 that I love is the removal of the Doc Robot stages. Instead of having you go through 4 of the stages you've already beaten, with bosses from a previous game, you instead have a second castle to go through. For the sake of spoilers I won't go into detail about it, but it works much better than the Doc Robot stages as it successfully lengthens the game, but with new stages and bosses.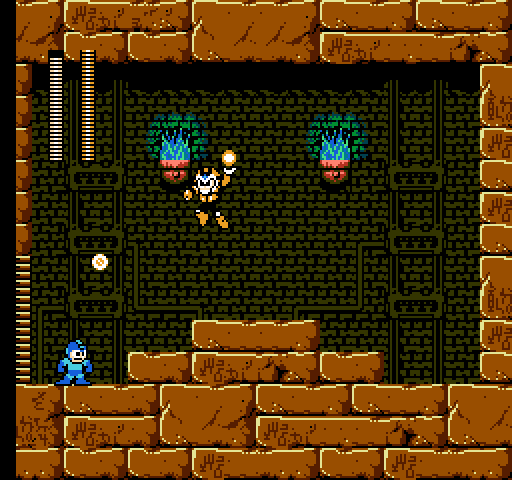 Mega Man 4 is often a controversial game among fans. It's a solid game, but it doesn't bring that many new elements to the table aside from the Charge Shot, which splits people into a love or hate category. Many also consider it to be a turning point in the series, where Capcom started to run out of ideas and the quality of the games fell from here. Whatever you may think, you have to admit that Mega Man 4 still succeeds in one aspect, just being fun to play. It may not be the most groundbreaking game out there, but for those of us who love Mega Man, that's not really a bad thing.
Conclusion: 8.0 out of 10
Last edited by Capn' Pancakes on Wed Oct 30, 2013 2:01 pm; edited 1 time in total
_________________
Reviewer




Posts

: 142


Exp. Points

: 468


Join date

: 2013-03-05


Age

: 23


Location

: The Griddle



Similar topics
Well I finally got around to doing the Mega Man 4 review, I hope you all enjoy. Not my finest writing, but i'm glad to have it done. It was actually harder to review than I originally thought it would be, but I digress.

Stay tuned for my next review when I conquer one of the Game Cube's cult classics.
---
Permissions in this forum:
You
cannot
reply to topics in this forum