Is this game truly beyond the reach of both good and evil?
Ubisoft has been known among the gaming community for a long time, producing many well know franchises such as Rayman or Assassin's Creed. Not every game was met with the success of those series though, and such is the case with Beyond Good & Evil. Conceived from the mind of Rayman creator Michael Ancel, Beyond Good & Evil was released back in 2003 for the Nintendo Gamecube, Sony Playstation 2, and Microsoft's Xbox. Despite being well received by critics and fans alike, the game sold poorly and quickly fell from the spotlight. In recent years the game has become somewhat of a cult classic, does it deserve a second chance to shine, or should it stay buried forever?
The story starts you off as a young photojournalist named Jade who lives on the world of Hillys, a world that is constantly under threat of an alien race known as the DomZ. To make matters worse, the military force of the world, the Alpha Sections, seem to be doing a pretty poor job of defending the planet. Jade soon meets an underground force called the IRIS Network that suggest everything may not be as it seems. Joining forces with IRIS, Jade is determined to find the truth about what is really going on. Along your journey you'll encounter many unique and memorable characters, ranging from the clumsy IRIS agent Double H, to a pair of stereotype Jamaican rhinos that run an auto shop. Jade really shines as the female protagonist though, as she actually has a lot of depth to her character and is surprisingly realistic. The story proves to be quite intriguing and really pushes you to keep playing and uncover more nefarious secrets.
The gameplay of Beyond Good & Evil is standard action-adventure fare in many ways, but it also brings some unique elements that help it stand out from the pack. You take control of Jade and perform various missions for the IRIS Network in order to expose the plans of the Alpha Sections. Transportation through the overworld is done by means of your hovercraft, the Beluga. Aside from just getting you where you need to go, you can use the Beluga in races to get money, find bandit hideouts to gain pearls (this game's form of currency), or just relax on the ocean. The game takes many cues from the Legend of Zelda series as you fight enemies and solve puzzles in what could be considered the game's dungeons. Combat is performed with your dai-jo staff and feels very fluid, if a bit simple. The puzzles can be quite clever and often require the assistance of a partner who accompanies you throughout the dungeon. There are also many stealth-based sections where you need to take out enemies without being seen and raising an alarm. Since Jade is a photojournalist, photography also has a large role in the game. Throughout your journey you can snap pictures of the various wildlife you come across to get some very useful rewards and of course, those ever desirable pearls. Even with the wide variety of gameplay elements, Beyond Good & Evil makes them work together brilliantly.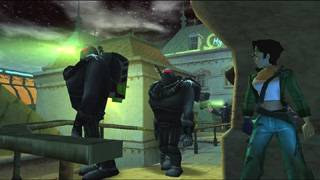 Even though it's almost two console generations old, Beyond Good & Evil is still a nice looking game. With fairly detailed textures and fluid animations, it shows that the developers put a lot of effort into creating the world of Hillys. The audio is also quite good, with some great voice acting and solid sound effects. The music doesn't stand out too much, opting for some softer pieces that help create atmosphere, but there are still some beautiful songs here. Take a listen:
Home Sweet Home
Safari
Thoughtful Reflections
Even though Beyond Good & Evil succeeds in many categories, it still has it's fair share of  flaws. Along your journey you'll be required to upgrade your ship in order to progress father in the game. You can upgrade our ship with Pearls, however, many of the Pearls in the game are quite optional, and obtained by doing sidequests, finding hidden areas, or completing a row of film with pictures. Because of this, there is a chance that you may not have enough Pearls to progress at a certain part in the game and have to go out and find enough to continue. Also, some of the stealth sections can be incredibly frustrating and drawn out due to awkward enemy placements. The last problem actually has to do with the art style and atmosphere. Hillys has seen better days, and it shows as more often than not, you'll be traveling through dull looking factories. There are a few notable exceptions, but most of the environments are rather boring and the overall atmosphere is dark and dreary.
Beyond Good & Evil is a journey that not many people have experienced, and that's a shame. It manages to take a variety of gameplay elements and fit them together wonderfully. The story is gripping, and to this day people are waiting for a sequel. It's easy to see why people have fallen in love with this game, minor flaws aside, it really is an experience worth playing.
Editor's Note: I no longer feel the need to give my reviews a numerical score, as I believe don't believe that they should be the deciding factor in how good a game is; the review should speak for itself. If it sounds like something you'd enjoy, then check it out, if not, then don't.
Join me next time as I review one of the Game Boy Advance's most overlooked gems!
Last edited by Capn' Pancakes on Sat Aug 31, 2013 11:30 am; edited 3 times in total
_________________
Reviewer




Posts

: 142


Exp. Points

: 468


Join date

: 2013-03-05


Age

: 23


Location

: The Griddle



Similar topics
Well it's finally done. I've been putting this review off for a while, but here it is. This was by far the hardest review I've made yet, and I can't say it's my best work, but I'm glad that it's over. Hope you all enjoy!
---
Permissions in this forum:
You
cannot
reply to topics in this forum