Fight Mega Man, fight for everlasting peace!
Mega Man
Back in the 1980's, most platformers were a simple affair. You would run from left to right through a series of worlds, jumping over pits and avoiding obstacles. When Mega Man was released in 1987, it not only introduced us to one of the most iconic characters in gaming, but it also provided a fresh spin on the simple genre of platformers.
Story
The game itself has no story to speak of, however, by reading the game's manual you can get a bit of backstory. In the year 20XX, Dr. Thomas Light and Dr. Albert Wily (who looks nothing like Albert Einstein) made a series of advanced robots to help perform industrial tasks. Dr. Wily grows jealous of Dr. Light and takes 6 of the robots to use them to conquer the world. Dr. Light then takes the housekeeping robot, Rock, and turns him into the Super Fighting Robot, Mega Man! Needless to say, the story is not very important to the game but it is silly and fun.
Gameplay
Mega Man introduced a fairly revolutionary concept back in the 80's. It allows you to choose any level you wants, each containing a different Robot Master. Upon defeating on of these Robot Masters, you gain a new weapon. These weapons can be used against other Robot Masters and each one is weak to a certain weapon. Part of the fun of Mega Man is experimenting with the weapons and finding out which Robot Master you should take on next. Each of the levels are basic platforming fare with a twist, Mega Man comes equipped with an arm cannon, the Mega Buster, used to blast foes in piles of bolts. Running through the levels shooting down enemies and dodging pellets is really a blast. The special weapons also bring a bit of variety to the run-n-gun formula though some are more useful than others. All of the six levels are distinct and carry over the theme of their respective Robot Master. Fire Man has a stage filled with lava and well, fire, while Elec Man has a stage full of electric beam hazards. Even with the same gameplay, the stages feel fresh due to varied enemies and obstacles. One example of bad design the game does have is that there is an item (the Magnet Beam) in Elec Man's stage which is required to beat the game. You are given no indication of this and could easily skip it only to come to a impassable obstacle later. This isn't a major problem if you know in advance, but for first time players this could be irritating.
Controls
Being an NES title, Mega Man is extremely simple to play. You move Mega Man with the D-pad, jump with A, and shoot with the B button. Pausing with start will bring up a menu where you can select your different powers. Mega Man himself controls very well, responding to your inputs almost exactly. It doesn;t take long to get the hang of running through levels and blasting foes thanks to the great controls. Compared to later games in the series, Mega Man does slide a bit instead of stopping immediately. It's nothing as major as the physics in Super Mario Bros. but it is worth noting.
Graphics
Mega Man is an NES game so the graphics are definitely limited. The game still looks quite nice by today's standards, with a good variety of colors and sprites. Later games in the Mega man series would do a lot more in the visuals department, but the original still looks very clean and actually pretty impressive for its time.
Sound
Even if you've never played a Mega Man game before, chances are you've probably heard some of its music. The Mega Man series highly regarded as having some of the best 8-bit tunes you'll have the pleasure of listening to, and for good reason. The bleeps and bloops come together to make some of the most memorable and enjoyable themes on the NES. From the moment you turn on the game to the final battle with Dr. Wily, all the songs in the game will keep you cheerily humming along. Here are some of my personal favorites:
Stage Select
Bomb Man
Elec Man
Difficulty
The Mega Man game are well renown for their difficulty, but it adds to the game rather than detracting from it. It may be hard for newcomers to get into the series because of the high level of skill they require, but with enough practice the game really isn't too hard. Playing through for your first time might be a frustrating experience, but once you familiarize yourself with the levels and enemies, it is a huge amount of fun. Some of the Robot Masters can be extremely challenging to take out if you don't have their weakness, even for experienced players. There is also one notorious boss in the last castle but he can be defeating by using a glitch so it's not too much of a problem.
Overall, Mega Man is a pretty challenging game, but with enough practice it can easily be conquered and it never feels unfair.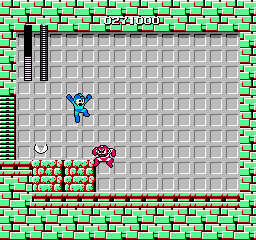 Replay Value
Beating the game shouldn't take more than 2 hours so the game is pretty short. I feel it makes up for this in replay value though. It's very fun to just jump in and play the game , you don't need to dedicate 2 or 3 hours to it, you can just pick up and play. There's something strangely addicting about the gameplay and I have a lot of fun challenging myself to new runs of the game, like only using the Mega Buster or doing no damage runs, so the game does have a lot of replayability if you're the type of person who likes to challenge yourself.
Overall
Mega Man is one of the greatest NES games and it spawned many sequels which only improved on the already superb formula. The game has also aged surprisingly well, and it doesn't feel dated or archaic. If you enjoy "Rock" hard platformers, give Mega Man a try. The excellent music unique gameplay make this worthy for any gamer's collection.
Score: 8.5 out of 10
Here is my review of the next installment in the series
Last edited by Capn' Pancakes on Sun Mar 31, 2013 3:02 pm; edited 5 times in total
_________________
Reviewer




Posts

: 142


Exp. Points

: 468


Join date

: 2013-03-05


Age

: 23


Location

: The Griddle



Similar topics
Great review, @Capn'.

This makes me want to try it. However, I have some other games that I need to finish first.
I did notice a thing or two in your review. In the controls section, you have ; instead of ' in "doesn't". Also, you may have forgotten a comma after Bros. As for writing, it was very good. You did use "of all time" a couple of times throughout the review. A bit of variety there might help.
Overall, well done.
---
Permissions in this forum:
You
cannot
reply to topics in this forum