A quest to save bunnies from slavery and red flower-shaped steroids!
Ah, Cave Story. An indie classic from 2004 that has been ported both Officially and Unofficially to a ton of platforms, even a calculator (seriously, google "cave story ti calculator")!
So what makes this game so memorable and great? Let's get started.
Plot
: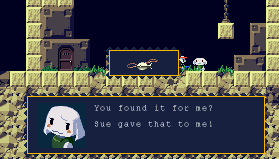 You are a robot who wake up in some cave with no memory of who you are or whatever. You escape, and fall into a deeper part of the cave: a small village inhabited by rabbit creatures called Mimiga. You embark on a quest to save the Mimiga from a devious doctor who uses red flowers to turn the Mimiga into crazy huge buff monsters. Along the way, you meet unique characters and enemies. You'll have to play the game to see how deep and dark the story really is.
Gameplay
: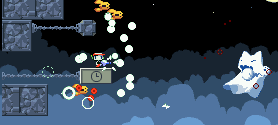 You're a crazy gunslinging robot with a huge arsenal such as a sword imbued with the spirit of a ninja rabbit, a booster pack created by a crazy doctor, a chargeable lazor, a bubble launcher and more! This game has a lot of hit-and-run, reminiscent of the difficult MegaMan Zero series for the GBA, except you can shoot in 4 different directions, making for intense fights. This game would probably be really hard if you haven't played a lot of Megaman before. The level design is great, there's a lot of challenges and puzzles that you have to solve, and once you do, you feel like a badass mini Samus Aran. It takes about 20~ hours to complete, if you're not so experienced with the hit-and-run thing. The only flaw I see it that it might be TOO hard, and that you have to do a LOT of specific actions to get the good endings.
Sound
:
You'll probably be humming out the few 8-bit songs in this game once you're done with it. You'll get a lot of NES nostalgia with the high pitches and such. It's a bit hard to notice, though, with all the insane 8-bit shooting action that goes on. The sound effects are great, too.
Graphics
:
The graphics in this game remind you a lot of the NES era. It's a bit dark, but hey, it's called Cave Story for a reason. The 3DS remake and the WiiWare 16-bit remake are great as well, and are definitely an improvement. I can say I liked the WiiWare style best, because I have a lot of memories from the 16-bit era.
Overall
:
SCORE: 8.5/10 - Great, but a few problems in the story and I don't really like the horribly dark atmosphere of the game. How dark? THE "REAL" LAST STAGE TAKES PLACE IN
spoiler alert!:

HELL.
Other than that, this is an AMAZING game. I highly recommend it, especially since the PC version is FREE and the 3DS and DSi ones only cost 10 bucks.
Last edited by Cyb3Rnite on Mon Mar 18, 2013 10:17 am; edited 2 times in total
_________________

Moderator





Posts

: 159


Exp. Points

: 268


Join date

: 2013-03-15


Age

: 20


Location

: Who cares?



Similar topics
I don't have an iPhone...
It's been released on countless platforms. I'll Google it.
Anyway, thanks! I heard the Curly mode is glitchy on the eShop one. Shame.. Maybe they'll update it. Or maybe they already have. Either way, get it! Soon! It's awesome!

EDIT: oh wait... nintendolife (dot) com/news/2012/10/cave_story_fix_is_coming_soon
---
Permissions in this forum:
You
cannot
reply to topics in this forum